The PEOPLE Process® Training
Click the image to see it larger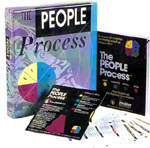 Participant's Package: $25.00
To order other products, click here
International Orders
,
click here
Part 1: Understanding Your Four-Letter Psychological Type
What is psychological type? Learn about your inborn preferences and the four type dimensions of behavior. This 90-minute class will enable participants to understand their own personality type and how to integrate that knowledge into their professional and personal life.
Please click on the links to download these pdf files.
TPP Training 3-Up Notes
Please print out and bring to class for taking notes.
TPP Training PowerPoint
Please open this file during class to follow presentation.
Profile Sheets: Please be at computer during class to open this file.