The PEOPLE Process® 1-2-3 • Team Skills Training
Pam Hollister conducts The PEOPLE Process® training sessions for a variety of business and other groups.
Contact Pam today to arrange for her to bring The PEOPLE Process® training sessions to your group.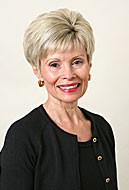 There is always that special moment during every training session that I conduct when it's like turning on a light bulb as it dawns on each participant how understanding the personality type of their co-workers, family and friends explains their behavior. This is very exciting for me. As people understand why they and others respond the way they do, it opens the door to trust.
I've conducted hundreds of trainings over the last 20 years, but I still feel the same excitement and exhilaration teaching personality type as I did the very first time. And I never tire of hearing feedback from participants telling me how, for the first time, they now understand what steps to take to improve their relationships. It's like giving them the key to unlock the mysteries of communication!
Can you tell that I love this field? I hope so. It's become a life mission for me to teach and create materials for trainers and human resource managers that are easy to use and really work.
—Pam Hollister
Learn to:
<![if !IE]>
<![endif]>
Recognize the different personality types and bring out the best in each.
Understand how stress affects behavior and ways to achieve balance.
Communicate confidently to short-circuit conflict and gain consensus.
Use the best listening techniques to strengthen communication.
Tune in to the needs and feelings of coworkers to increase office harmony.

Master the PEOPLE SKILLS essential to
building positive and productive relationships.
The PEOPLE Process® 1-2-3 is a six-hour class designed to give participants a working understanding of psychological type theory and type tools to use in their personal and professional lives. The class is organized in three parts:
Understanding your personality type
Personality type and stess
How to recognize someone's type
During the course of the three parts, the program will examine how to:
Understand your own personality type and how to integrate that understanding into everyday interactions.
Listen for clues and observe behaviors in others that suggest someone's type.
Adjust your own preferences in order to more productively respond to someone else.
Recognize elements of behavior under stress and respond with solutions to create balance and equilibrium.
Part 1: Understanding Your Four-Letter Psychological Type.
What is psychological type? Learn about your inborn preferences and the four type dimensions of behavior.
Part 2: Personality Type and Stress.
Learn type dynamics and the formula for type behavior under stess. Role play situations/behaviors that assist in bringing an individual into balance.
Part 3: How to Recognize Someone's Type.
Harness the power of Personality Type. Identify someone's type and respond appropriately. Participants choose the type of someone they know and learn how to respond based on type preferences.
Training consists of experiential processes that enhance and solidify the concepts of psychological type theory and gives participants working tools to use in their personal and business lives.
TEAMWORK
The ultimate competitive advantage –
So powerful and so rare!
Workshop Objective:
Teams will be able to make substantial progress toward becoming a more cohesive team and take the first steps toward building trust and understanding conflict styles. They will establish a plan for making progress on commitment, accountability, and results.
This interactive, fast-paced session is designed for team leaders and their members. Because team-oriented exercises and activities are embedded in the discussion of business issues, participants never feel as though they are doing a touchy-feely or theoretical exercise. Practical tools are taught that team members can put to immediate use to turn their "dysfunctional team" into a "Positive Functioning Team."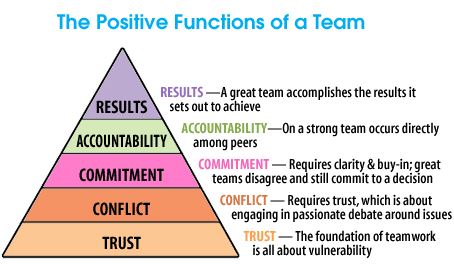 Building TRUST – Participants are taught how to use and understand personality type theory with The PEOPLE Process®. This enables team members to:
Understand their own personality type and how to integrate that knowledge into their professional and personal life
Listen and observe clues in the behaviors of others so they can choose their type
Adjust their own type preferences in order to respond to someone else
Mastering CONFLICT – Includes an exercise to identify an individual's ability to engage in and manage conflict.
Personality Type and Stress: Participants learn the formula for each member's type behavior under stress, how to recognize the signs of stress in teammates and themselves, and role-play solutions/behaviors that bring each other into balance.
Team members are taught how to create their team's "Rules of Engagement" for acceptable/unacceptable behavior of their teammates.
Achieving COMMITMENT – Buy-In, Clarity, and Commitment Clarification techniques are taught and put to work by the group in creating a "Unifying Goal."
Embracing ACCOUNTABILITY – Direct, peer-to-peer accountability where people hold one another accountable is experienced through the "Team Effectiveness Exercise" which provides a forum for providing focused, direct, actionable feedback about how their individual behavior can improve team performance.
Focusing on RESULTS – By establishing their own measurements for success, results-oriented teams commit, early and publicly, to what they will achieve – the Unifying Goal, Defining Objectives, and Standard Operating Objectives.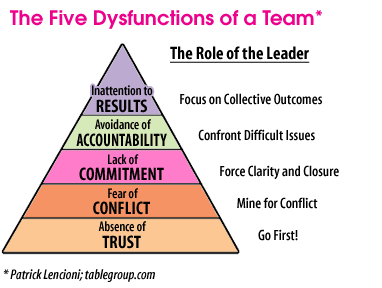 #1: Absence of Trust — The fear of being vulnerable with team members prevents the building of trust within the team.
#2: Fear of Conflict — The desire to preserve artificial harmony stifles the occurence of productive, ideological conflict.
#3: Lack of Commitment — The lack of clarity or buy-in prevents team members from making decisions they will stick to.
#4: Avoidance of Accountability — The need to avoid interpersonal discomfort prevents team members from holding one another accountable for their behaviors and performance.
#5: Inattention to Results — The pursuit of individual goals and personal status erodes the focus on collective issues.